YouTube video: Why adopt GOGLA - Lighting Global KPIs? A business case shared by Solaris Offgrid
The organization
As part of The World Bank's efforts to combat energy poverty around the globe, it works to foster private sector investment in market-driven solutions. The World Bank's engagement in the energy sector is designed to help secure the affordable, reliable, and sustainable energy supply needed to end extreme poverty and promote shared prosperity. Its strategy mirrors the objectives of the Sustainable Energy for All Initiative and the Sustainable Development Goal (SDG) on energy, SDG7: achieving universal access, accelerating improvements in energy efficiency, and doubling the global share of renewable energy by 2030.
The challenge
Around 1.1 billion people currently lack access to electricity. In recent years, the emergence of cheaper solar energy options, and pay-as-you-go (PAYG) business models that make these options affordable, has provided more people with greater access to clean energy than ever before.
However, many of the distributed energy service companies (DESCOs) providing PAYG off-grid solar products need significantly more capital investment in order to realize their plans for customer expansion and product development. This is a sector with high perceived risk, a weak pipeline, and an unfamiliar asset class, which means that investors have been slow to provide capital to the sector. Meanwhile, companies need to spend existing time and resources operating their business, while there are limited industry standards to help measure and report their performance and limited industry data available to help inform the most effective operating decisions.
The approach
Since 2016, DrivenData has worked on multiple projects in off-grid energy, delivering data-driven insight to companies, policymakers, and industry stakeholders.
The World Bank worked first with The Impact Lab and then with DrivenData to develop a sector-wide KPI framework for measuring operational and business performance of energy service providers. These indicators were defined based on input from companies, investors, and funders, and with feedback from testing on company data. The goal of the framework was to develop a first set of industry standards and tools available to off-grid companies, helping to facilitate investment assessments and promote stronger operational performance in the PAYG sector.
Furthermore, The World Bank wanted to promote insights across the industry by bringing advanced data science approaches to the data from real companies. The PAYG off-grid sector generates data from both arms of its business: selling energy devices and extending credit. Insights from these data sources—like who is most likely to pay on time, when devices are likely to require maintenance, and how to design customer agreements to increase the likelihood of repayment—drive improved outcomes for both customers and companies.
Making sense of data at this scale can be challenging, but it is increasingly important to companies that need to understand their sustainability and profitability. This kind of analysis is also a key component to unlocking investment in off-grid solar companies. Using this context, DrivenData and The World Bank partnered with Angaza to identify ways to apply advanced data science approaches for the benefit of all. The primary objective: evaluate differences across contract design decisions—like the time customers have to repay, their required downpayment, and the frequency of payments—and model the impact of these decisions on repayment behaviors. Since Angaza is a software provider for many DESCOs, by aggregating and anonymizing data from participating clients, we were able to produce a detailed view of cross-cutting industry trends.
The outcome
The GOGLA - Lighting Global KPI framework has been published as a resource for PAYG off-grid solar companies and investors. The latest version of the KPI Technical Guide, including indicator definitions, commentary, illustrations, and open source code for calculation, is available through the GOGLA website and copied below.
The results of the industry trends analysis were co-presented with Angaza in January 2018 at the Global Off-grid Solar Forum in Hong Kong.
Resources:
The results of the initial modeling effort emphasized trade-offs in influencing on-time repayment; for instance, agents were helpful touch points for encouraging timely payment, while remote mobile payments provide more scalable economics on an ongoing basis. It also confirmed that more frequent payments were associated with more timely repayment, all else equal, supporting the most common industry practice of weekly payments.
Beyond the immediate analysis, the partnership with Angaza highlighted the potential for public-private partnerships in PAYG solar. Often in this industry, the impact and the business cases align. Partnering on data-sharing can improve the outcomes that everyone cares about.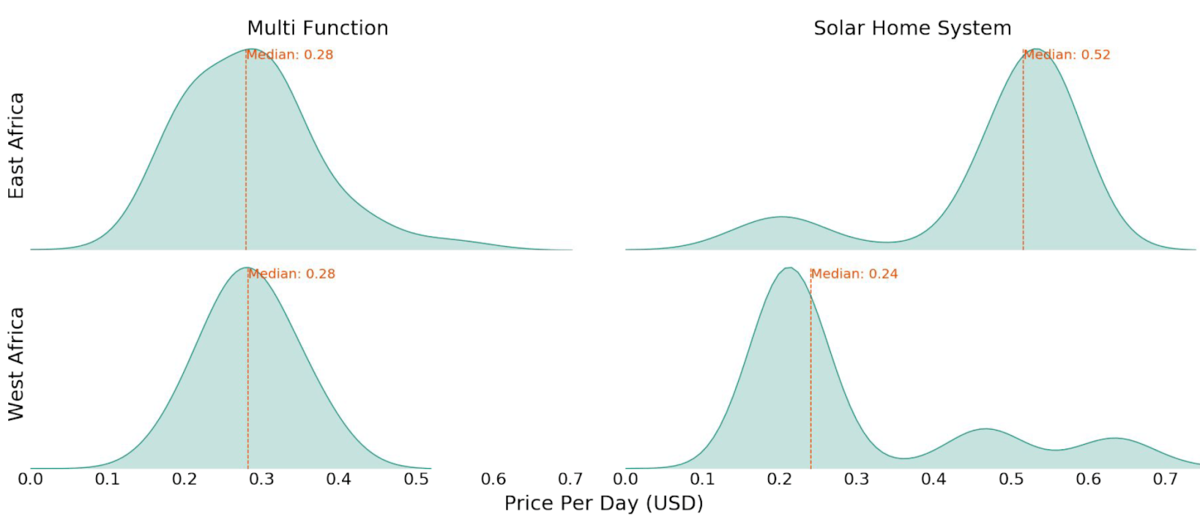 Image from Industry Trends Analysis highlighting regional difference in price per day charged for solar home systems; shared at the Global Off-Grid Forum and Expo 2018 in Hong Kong
KPI Framework - Technical Guide. V. 1.0 January 2018
---