The organization
IDEO.org designs products, services, and experiences to improve the lives of people in poor and vulnerable communities. IDEO.org received a grant from the Bill & Melinda Gates Foundation to use human-centered design and data science in order to explore ways to promote the use and adoption of digital financial services in Tanzania and Uganda.
The challenge
Tanzania has seen widespread penetration of mobile phones even among its low-income populations. The hope is that these devices provide access to mobile money, which enables access to digital financial services in a way that previously was not possible. Access to savings and loans has the potential to stabilize volatile incomes and enable financial growth. However, adoption of mobile money, particularly among low-income communities in Tanzania, has been slower than other countries in the region (most notably, Kenya).
In this project we focused on ways to increase adoption and use of mobile money. We identified that a key barrier was a lack of trust in the new digital form of money, and we designed solutions where mobile money agents play a role in building that trust.
The approach
Mobile money is a rich, complex data source that epitomizes big data. We analyzed more than a hundred million transactions representing nearly a year of all mobile money activity from one of Tanzania's largest mobile network operators (MNO). Our analysis was used to understand human behaviors and inform new solutions.
However, the data doesn't answer all of the questions. The key to our success was our collaboration with the human-centered designers at IDEO.org. Data science brought a broad view of how people interact with each other and with mobile money. Meanwhile, human-centered design (HCD) brought detail and color to the individual stories behind these data points.
The combination of quantitative analysis and qualitative inquiry identified opportunities to boost customer trust and to improve access to well-supported agents. In designing solutions, the IDEO.org team used HCD to craft new prototypes and small-scale pilots, while our team used data science to inform design decisions like incentive amounts and target populations and to build a comprehensive baseline to measure change.
Having experienced this partnership first-hand, we believe in the ability of HCD and data science to tackle tough challenges and drive more insightful research together than either approach could accomplish alone.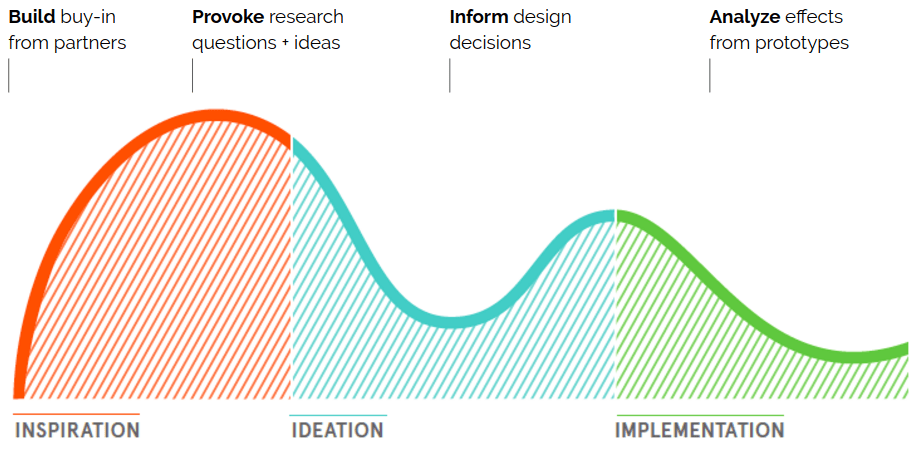 HCD and Data Science strengthen each other throughout the research and design process.
The outcome
Three prototypes were designed over the course of this project, targeting the potential benefits from helping agents gain more transparency into their business, promoting relationships between customers and specific agents, and prioritizing support for agents providing valuable access especially for hard-to-reach users. These prototypes fed into ongoing efforts being conducted by the MNO partner. In addition, the experiences from this project highlight the power of combining HCD and data science to illuminate hard problems and design new approaches to solve them. You can see a few illustrations of how personal stories complemented data insights and vice versa in the open examples below.

Example screenshot of a custom, web-based exploration tool that navigates through anonymized data and customer quotations to tell a data-driven story about the experience of being a mobile money agent.
---