The organizations¶
Insecurity Insight monitors incidents of violence worldwide using innovative open-source data collection and analysis. Their unique database supports decision makers at humanitarian agencies, nonprofits, and community organizations concerned with the protection of health workers, educators, and displaced populations.
Physicians for Human Rights combines medicine, science, and the law to document human rights violations and hold perpetrators accountable.
The challenge¶
Since the invasion of Ukraine in February 2022, there has been a targeted campaign of attacks on health care facilities and civilian infrastructure. Documenting these assaults is critical to provide effective aid and to prosecute aggressors for violating human rights law.
Insecurity Insight gathers information to support these efforts through information sharing with local organizations and open-source monitoring, which enables uniquely rapid response to dynamic conflicts. Insecurity Insight has been closely involved in tracking violence in Ukraine since the invasion began, but needed a more easily accessible tool to disseminate information quickly to those on the ground.
The approach¶
Insecurity Insight's Health Care at Risk map tracks incidence of violence against healthcare systems worldwide, but does not capture the specific details needed in the Ukrainian context nor provide information in real time. This project created an easy-to-use, up-to-date, interactive map of attacks on healthcare in Ukraine to support journalists, aid providers, and prosecutors.
To accomplish this, DrivenData:
Used open-source visualization tools like Nuxt, Vuetify, and Leaflet to build on existing best practices while also allowing for sufficient customization.

Connected the map directly to Insecurity Insight's database via an API, enabling real-time updates without any manual entry.

Deployed a prototype early and iterated quickly based on input from organizations with an understanding of the needs of key end users - those working to provide aid and hold aggressors accountable in court.
The map was developed alongside a coalition of organizations, including eyeWitness to Atrocities, Insecurity Insight, Media Initiative for Human Rights, Physicians for Human Rights, the Ukrainian Healthcare Center, and DLabs.AI.
The outcome¶
Over the course of just a few months, a full dashboard tracking attacks on health care in Ukraine was designed, developed, and deployed. The map is updated regularly and used to monitor the state of health care in Ukraine.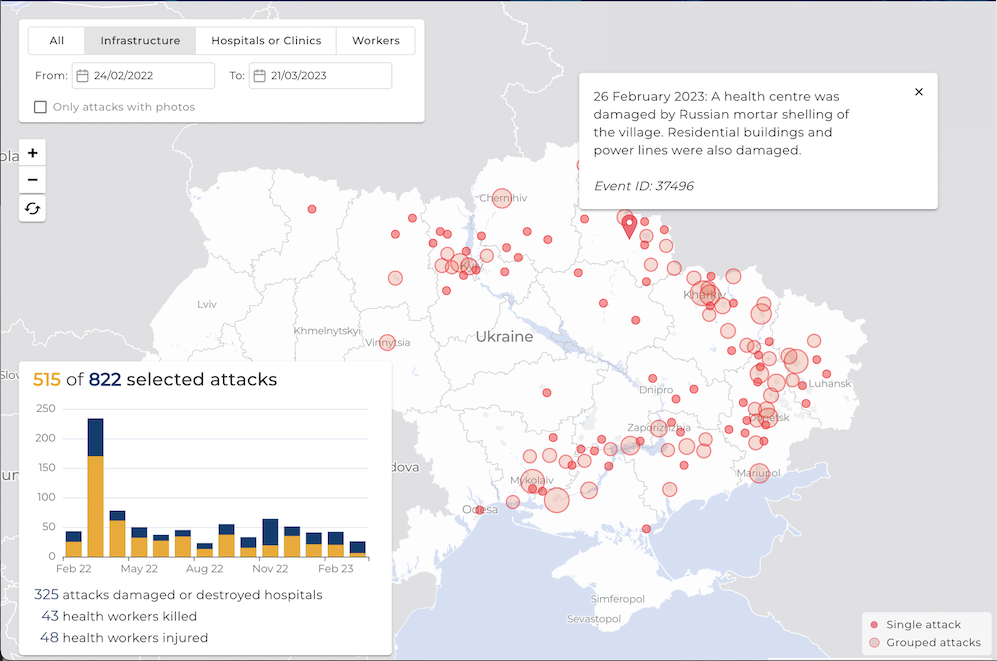 Screenshot of interactive map of attacks on health care in Ukraine when filtered for attacks on infrastructure. Source: www.attacksonhealthukraine.org
Users can:
Select any individual attack to see a short description, as well as any relevant images

Quickly view topline counts like number of attacks, clinics damaged, and health workers killed on either a desktop or a mobile phone

Filter the attacks by type of infrastructure and date range

Visualize how patterns of attacks have changed over time

View the map in either English of Ukrainian
To learn more, visit the map or read the corresponding report.